MESSAGES | FEATURES | PREVIEW | EVENTS
Originally published: 10/31/2022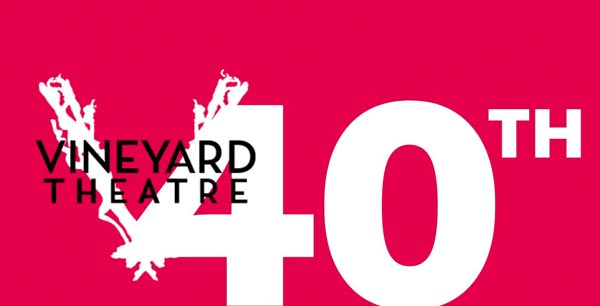 (NEW YORK, NY) — Vineyard Theater Artistic Directors Douglas Aibel and Sarah Stern and CEO Suzanne Appel announce that on November 3rd the company will receive a proclamation from the Mayor's Office in celebration of Vineyard Theater Day, outlining the institution's contributions to the City of New York and its neighborhood Union Square to be honored. East 15th Street has been home to the Vineyard Theater for 30 of its 40 years.
Kathryn Erbe, a Vineyard Theater board member, will speak at the 3:30 p.m. celebration, and Jennifer Falk, executive director of Union Square Partnership, will also be in attendance and share a few words about the company's impact on Union Square.
To celebrate its 40th anniversary, Vineyard Theater also recently announced a new visual identity that honors the company's 40 years of fearless theatrical production in New York, and will unveil its new marquee.
November 3 coincides with the premiere of sandra, a new one-woman thriller directed by David Cale, and the first show of Vineyard Theater's 40th season. Sandra tries to get to the bottom of the mysterious disappearance of her closest friend, a young pianist and composer who took a trip to Mexico and never returned. Her search for clues leads her into both a highly charged love affair and increasingly dangerous territory. Featuring an original piano reduction by Matthew Dean Marsh, directed by Obie Award-winning director Leigh Silverman and starring Marjan Neshat (English and Sell ​​Kabul), sandra asks how far would you go for love?
Following sandra will be the premiere of the musical White girl in dangera Vineyard Theater and 2ndStage co-production, written by Tony Award and Pulitzer Prize winner Michael R. Jackson (A strange loop) and directed by Lilieana Blain-Cruz (The skin of our teeth). White girl in danger will be presented at the 2ST from March 15, 2023 to May 21, 2023, with an opening night on April 10, 2023. Vineyard's final production of its 40th season will be the world premiere of This country was made by Tori SampsonWhen pretty hurts, ugly has to be a muhfucka), directed by Taylor Reynolds (The Movement Theater Company) and performed at the Vineyard Theater (108 East 15th Street).
Advertise with New Jersey Stage for $50-$100 per month. Click here to get more information
---
The Vineyard Theater's 2022-2023 season is generously supported by the Howard Gilman Foundation and the Shubert Foundation. The Ford Foundation has made a large pledge of donations in support White girl in danger. The Edgerton Foundation has campaigned heavily for this This country was made. Additional support for the Vineyard 40th Anniversary season's productions was provided by the National Endowment for the Arts, the NYC Department of Cultural Affairs, the NYSCA, and the NYC Women's Fund. Artistic Directors' Circle sponsors for the season currently include Jamie deRoy (sandra), Sally Horchow, Bobby and Vicki Freeman, Ken and Rande Greiner, Susan Marks, Fiona and Eric Rudin, Salmira Productions (white girl in danger), and Annette Stover and Richard Feiner. Company support for the season includes gifts from Atlantic Records and Con Edison.
Under the artistic direction of Douglas Aibel and Sarah Stern, The Vineyard Theater develops and produces new plays and musicals that push the boundaries of what theater can be and do. For nearly 40 years, The Vineyard has nurtured a community of fearless theater makers whose work has expanded the form, the field, and the larger culture. The Vineyard Theater has moved eleven shows to Broadway, seven straight after their acclaimed Vineyard premieres: Lucas Hnath's Dana H. and Tina Satters is this a room (both New York Times Best Theater of 2021); Paula Vogels Indecent; Nicky Silvers The Lyons; Kander, Ebb and Thompsons The Scottsboro Boys; Bell and Bowens [title of show]; and Avenue Q by Marx, Lopez and Whitty (Tony Award, Best Musical). In recent years, four other shows launched at The Vineyard have been revived in their first Broadway productions: Paula Vogel's Pulitzer Prize-winning show How I learned to drive; Lanie Robertsons Lady Day at Emerson's Bar and Grill; Becky Modes Fully committed; and Edward Albees Pulitzer Prize winner Three great women.
From their home in Union Square, New York, The Vineyard creates and premieres new plays and musicals that tour the country and the world. Recently the play by Jeremy O. Harris "Dad" (2019) premiered at the Almeida in London; Ngozi Anyanwus good sorrow (2018) and David Cales Harry Clarke (2017) were recorded by Audible; Branden Jacobs-Jenkins' glory (2014), a Pulitzer Prize finalist, moved to the Goodman Theater in Chicago; Paula Vogel has received the Tony Award Indecent (2016) aired on PBS's "Great Performances" and was one of the most-produced plays nationally of 2019; and Colman Domingos Point (2016) is being adapted into an AMC series. The Vineyard's first major digital work, Lessons in Survivalwas named one of the best cinema experiences of 2020 by the New York Times and was seen by viewers in more than 40 countries.
The Paula Vogel Playwriting Award, Susan Stroman Directing Award and the Vineyard's Colman Domingo Award provide residencies for emerging artists, and our educational programs serve over 700 New York public high school students annually, culminating in the Developing Artists' REBEL VERSES Youth Arts Festival. The Roth-Vogel New Play Commission is awarded annually to a mid- to late-career playwright to create and develop a new play, The Vineyard. Our work and artists have been recognized with numerous awards, including Pulitzer Prizes and Tony Awards, and the company is proud to be the recipient of special Drama Desk, Obie and Lucille Lortel awards for artistic excellence and artist support.
Vineyard Theater directors include artistic directors Douglas Aibel and Sarah Stern, and executive director Suzanne Appel.