MESSAGES | FEATURES | PREVIEW | EVENTS
Originally published: 11/06/2022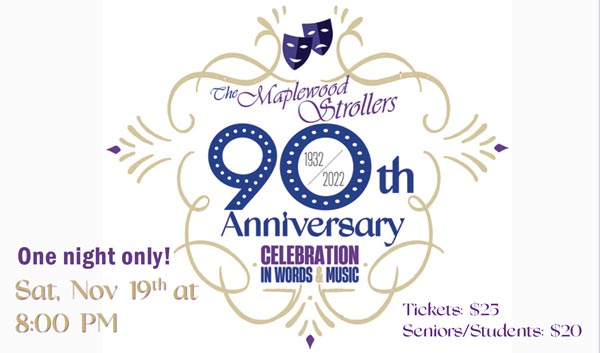 (MAPLEWOOD, NJ) – On Saturday, November 19, 2022 at 8:00 p.m., attend the Maple wood stroller for a revue of scenes and songs from theater classics to celebrate The Strollers' 90th anniversary! The event will take place at the Burgdorff Center for the Performing Arts and will be followed by a dance party.
The event features Jessi Baden, TJ Balady, Vlada Borisova, Shelley Bromberg, Caity Brown, Joseph Calderrone, Mary Clare Cardoni, Gene Ciccone, Carol Cornicelli, Dena Daniel, Alan Foster, Steve Gabe, Tanvi Iyer, Phyllis Kessler, Golan Mandel, Merav Mandel , Amanda McCabe, Norm Metz, Jennifer Padley, Donald Pauselius, Rachel Perrie, Sharon Quinn, Brielle Raddi, Matt Schwartz, Beth Seales-Hanson, Melyssa Searcy, Fran Shultz, Robin Sindler, Betty Slevin, Jeff Taylor, Stephanie Turner, Kate Vandervalk, Barbara Velazquez, and Simcha Willick.
The Burgdorff Center for the Performing Arts is located at 10 Durand Road in Maplewood, New Jersey. Tickets are $20 for seniors/students and $25 for general admission. cards are available for purchase on-line.
The prams is a community theater company based in Maplewood, New Jersey. They have been in continuous operation since 1932. Each year they produce a season of two plays and a musical, as well as a children's theater production in mid-winter. They welcome anyone interested in art and willing to work towards a common goal, whether on stage or behind the scenes. Their diverse membership includes people of all ages and walks of life. Whether you've always been a theater person or just enjoy working on a creative project, The Strollers welcomes you. Their monthly meetings include a workshop program that provides a forum for first-time playwrights and directors to showcase and experiment with new works and ideas. Workshops also offer actors the opportunity to perform in slightly more casual and less time-consuming locations than a full play would require.
If you are interested in joining them or would like more information on becoming a member of this important, growing community organization, please contact us at [email protected]
Advertise with New Jersey Stage for $50-$100 per month. Click here to get more information
---
Advertise with New Jersey Stage for $50-$100 per month. Click here to get more information
---