MESSAGES | FEATURES | PREVIEW | EVENTS
From Spotlight Central, photos from Love Imagery
originally published: 19.11.2022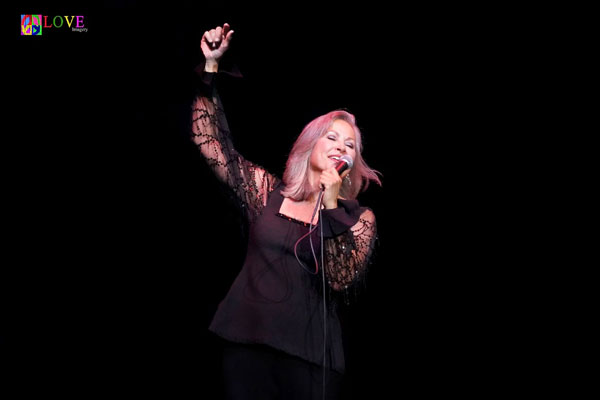 In Englewood, NJ, it's nearly 80 degrees on this warm evening of November 6, 2022 as music lovers step into BergenPAC's gleaming new lobby for a heartfelt evening of music by Broadway actress and recording star Linda Eder.
In the beautifully renovated Auditorium BergenPAC – with new theater seats, carpeting and an upgraded sound system and acoustics – the stage is equipped with a grand piano, stand-up bass, drums, electronic keyboard and various wind instruments.
House lights are dimmed and the youth who make up the BergenPAC Special Events Choir entertain the audience tonight with a selection of Broadway and pop songs, complete with piano accompaniment.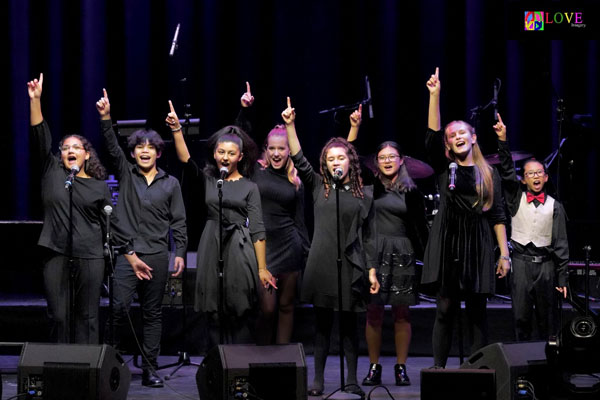 Full of self-confidence and talent, the youth's enjoyment of music and theater shines through their performance.
After a brief pause, the crowd applauds as five musicians – pianist Billy Stritch, bassist David Finck, keyboardist James Olmsted, drummer Eric Halvorson and saxophonist Aaron Heick – take their places on stage.
Advertise with New Jersey Stage for $50-$100 per month. Click here to get more information
---
Stritch announces, "Please welcome Linda Eder!" and music lovers cheer and applaud as they stand. Eder looks stylish in her black ensemble and smiles as she gazes out at the crowd before gracefully bowing and directing the band to begin tonight's show with a swinging rendition of "Almost Like Being In Love."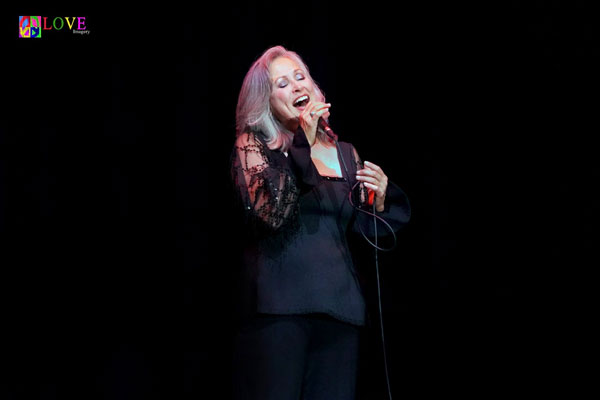 Singing "What a day this has been/What a rare mood I'm in," Eder's effortless vocals fill the BergenPAC auditorium on this uptempo arrangement that segues into a jazzy version of "This Can't Be Love." She sustains a long note as the arrangement slows, and Eder's voice soars with power and emotion before hitting a high note at the end, greeted by enthusiastic cheers and applause.
"Many Thanks!" exclaims Eder, joking, "It's so nice to be back in this beautiful place on the first day of summer!" Eder explains that her current tour includes tributes to several of her favorite artists, and reveals that her opening medley is her personal tribute to Judy Garland is.
After a rural version of Patsy Cline's "Sweet Dream" and an uptempo power ballad arrangement of "Where the Boys Are" by Connie Francis, Eder explains: "We can't do a concert of tribute songs without doing one where this guy is in!" Here Eder starts with her interpretation of Frank Sinatra's "Fly Me to the Moon".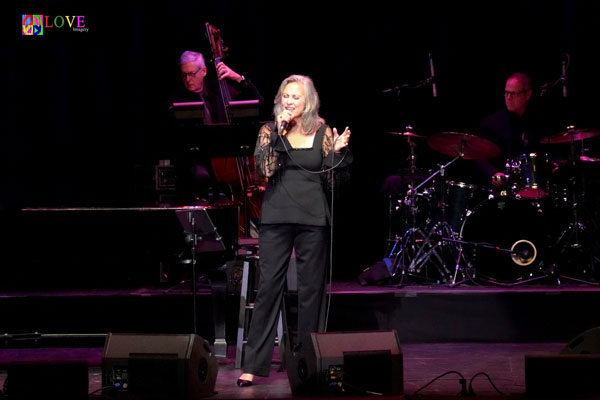 Aaron Heick solos on tenor sax and music lovers' toes tap on this swinging arrangement, which concludes with Stritch playing a three-chord piano ending by Count Basie.
"That was fun!" exclaims Eder, before announcing: "How about a salute to the choir?" and joked: "I would give anything to be that age again!"
Eder introduces her musical director, Billy Stritch, and confirms, "He's a wonderful singer." Singing in harmony, Eder and Stritch's voices blend perfectly as they perform Kay Starr's "Side by Side" together.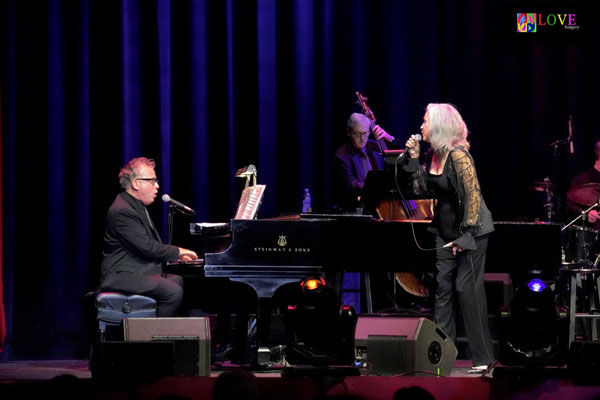 Eder takes a seat on a stool and declares, "I can't sing this song standing up." Bowed bass, flute and piano combine to support Eder's flawless vocals on "Bring Him Home." Les Miserables. Her legato, bell-like voice comes across as genuine and clear, Eder sustains pure tones as if she were painting with her voice, and gets the crowd moving. Clearly moved by the song, Eder explains her emotions, revealing, "When I sing this song, I think of Jake; I have to try not to think about my son."
Eder presents a tribute to Olivia Newton-John with her rich, full-on rendition of "I Honestly Love You," followed by "Before the Parade Passes By," a tribute to Barbra Streisand that starts out slow and then ramps up to a fast march. Aaron Heick plays piccolo on this dynamic arrangement that has the audience wagging their heads and tapping their toes. The crowd cheers Eder and Co. with their lively performance.
Lights swirl on the walls and ceiling of the auditorium during Eder's performance Twilight Boulevard's "As If We Never Said Goodbye," where lush instrumentals provide a cushion for Eder's voice to float on and then float over.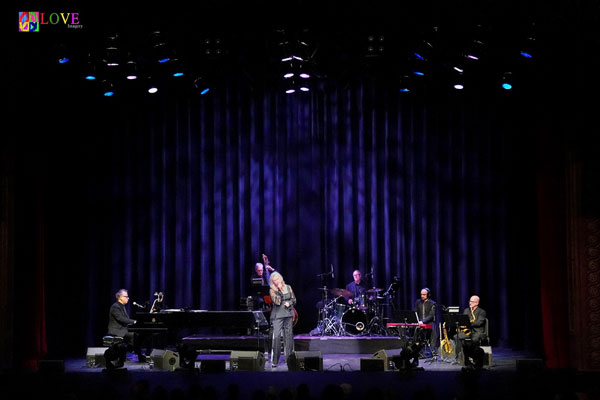 Eder introduces world-class bassist David Finck and confirms, "This is a song we love doing together." Finck's slow, sensual bassline introduces "Stormy Weather." Strings bend as Eder's exposed voice bows along with the bass, band members join in with strumming piano keys, wailing saxophone, electric keys and steady drums before Eder sustains a long note while Finck slumps away beneath her sultry voice.
Advertise with New Jersey Stage for $50-$100 per month. Click here to get more information
---
Eder wows the crowd when she effortlessly sings "Something always bring me back to you" on Sara Bareille's "Gravity," and she follows with "a very light country duet with Billy" on "Carry You Home," a country homage music icon Loretta Lynn.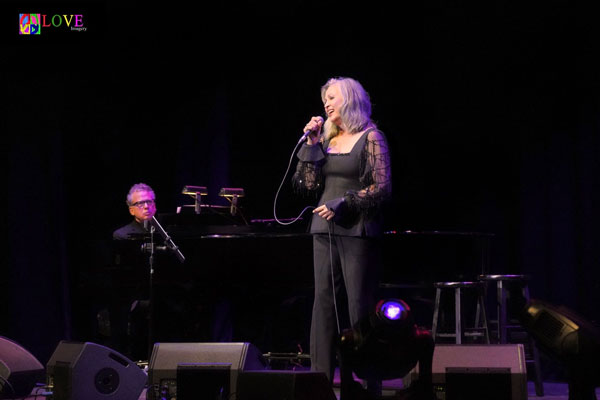 "I can never take that off my show — it's a great song," Eder says of "Someone Like You." Jekyll and Hyde. With the yell "If someone like you/Found someone like me/Then suddenly/Nothing would ever be the same," Eder sings from the heart with her extraordinary talent, touching music lovers in the crowd who end up jumping to their feet in applause.
Eder explains to the audience: "I've done a few master classes during the pandemic and one student in particular stands out. Let's get Gianna Grosso out of New Jersey!" Grosso and Eder take turns singing with emotion on "In His Eyes," a duet Jekyll and Hydein a performance that has the audience standing and applauding for the two musical divas.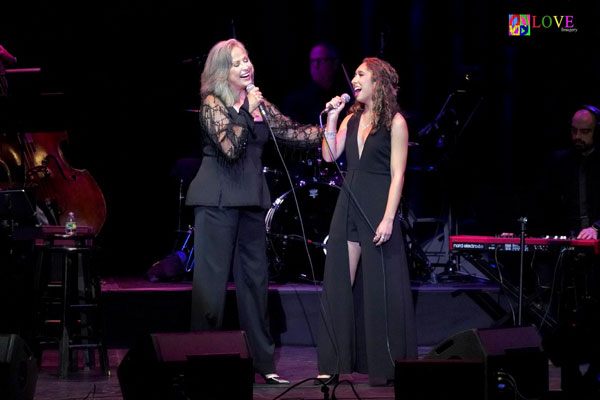 Eder graciously gives her student a chance to shine in the spotlight, while Grosso delivers a dynamic solo rendition of Broadway's "A Change in Me." Beauty and the Beast.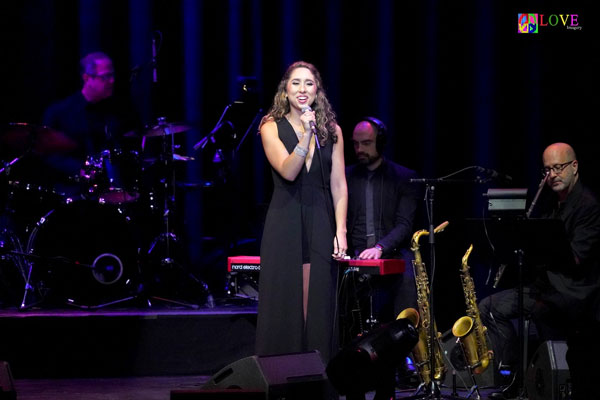 The crowd erupts in applause, Eder returns to the stage and Grosso admits, "I can't believe this just happened! Linda Eder's legendary voice is my favorite voice in the world!" before Eder replies, "You go everywhere boy!"
Aaron Heick plays saxophone under glowing red lights as Eder sings Lesley Gore's "You Don't Own Me," and Eder invites the audience to sing along to a soulful rendition of Dusty Springfield's "Son of a Preacher Man." She follows with a medley of Judy Garland classics including "Come Rain or Come Shine", "San Francisco" and "The Trolley Song" that elicits enthusiastic cheers and applause from the crowd.
After her Latin-inspired performance of Shirley Bassey's "Charade", Eder introduces the members of her band and begins an exquisite performance of her power ballad "Vienna", to which the audience enthusiastically responds with a standing ovation.
To wrap up today's show, Aaron Heick's saxophone introduces Eder's powerful Latin-style arrangement of "Man of La Mancha," in which Eder sings high and free, her voice soaring to the climax of the number on a sustained high note, which she executes to perfection .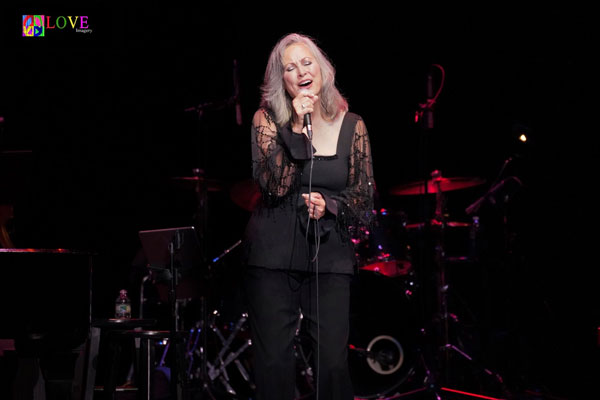 A roar of cheers from the crowd gets people to their feet wanting more as Eder bows and walks out.
Eder takes the stage again for an encore of Judy Garland's "Over the Rainbow," which features only piano and vocals. Stritch makes the piano sound like an orchestra and Eder gives a master class in vocal technique and expression – every word crystal clear, sung with intention and with a gorgeous tone. At the end, the audience jumps as Eder blows him a kiss and waves goodnight.
As the audience exits the hall, we chat with some who share their thoughts on Linda Eder's concert tonight. While Anne from Flanders calls Eder's performance "fabulous!" and Gina from Woodbridge calls it 'excellent', notes Eddie from Flanders, 'I've been following Linda Eder since she's been on it Jekyll and Hyde. I've seen that show 12 times and I've seen her six times in concert," before declaring, "She was amazing tonight, both in terms of her voice and her personality!"
Susan from Bogota admits: "I had never heard of Linda Eder before tonight's show, but I was pleasantly surprised. She was amazing! Her musicianship was outstanding, Billy Stritch was fantastic and I loved that she played jazz, Broadway and classical songs," before exclaiming, "Can't wait to see her again!"
While Edison's Donna comments, "Linda Eder's vocal control is amazing, and when she sings you can tell she really enjoys what she's doing," asserts Staten Island's Marty, "She has an incredible band. I particularly enjoyed playing the flute and Billy Stritch's beautiful piano work." Marty's friend Marcus from Staten Island explains, "I love Linda Eder and thinks she's phenomenal," before joking, "If Barbra Streisand and Judy Garland could have a baby, it would be it Linda Eder!"
We finally catch up with Jerry from Milltown who exclaims, "This is my second time seeing Linda Eder and I feel so blessed to be able to see her again tonight! Her voice reached out and touched my soul," before concluding, "She was absolutely transcendent!"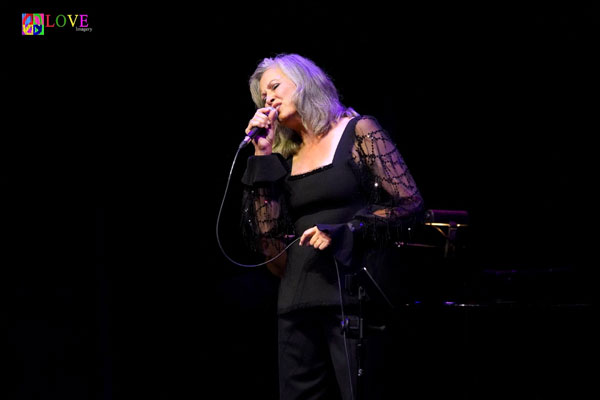 To learn more about Linda Eder, please visit lindaeder.com. For information on great upcoming performances at BergenPAC – including Darlene Love on December 9th, Art Garfunkel on December 15th and Marie Osmond on February 18th 2023 – please visit bergenpac.org.
Photos by Love Imagery
Spotlight Central. Your source for Jersey entertainment news and reviews
love pictures art photography. everything you need. Peace/Love/Flower/Power