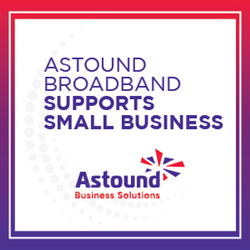 PRINCETON, NJ (PRWEB)
November 17, 2022
Astound Broadband (Astound), the sixth largest U.S. cable provider operated by regional leaders RCN, Grande Communications (Grande), Wave Broadband (Wave) and enTouch Systems (enTouch), announced today the opening of its first small business sweepstakes , where small businesses are recognized for contributions to their community in each of the markets they serve, with a chance to win a year of free internet service.
Starting today, Astound Business Solutions is welcoming submissions from across the country to help recognize deserving small businesses in neighborhoods everywhere for all they contribute to their surrounding communities. Neither the nominee nor the nominee need to be a current Astound customer in order to be eligible for a nomination. Nominated small businesses are entered for a chance to win the Astound Business Solutions grand prize and each winner will be selected at random. There will be one grand prize winner in each market selected by Astound Business Solutions on or about January 4th, 2023
Each Grand Prize Winner will receive:

Twelve (12) months of free internet service billing credits (up to 1GB) in one location

The approximate annual retail value of each Grand Prize winner is up to $2,759
"We believe that smaller, locally owned businesses are an integral part of the success of the communities they live in and that sourcing locally can add up for both individuals and the businesses they support," said Patrick Knorr, Chief Commercial Officer of Astound Business Solutions. "We wanted to help make a difference for small local businesses by providing an essential service while improving their bottom line so they can continue to make a positive impact on our communities."
No purchase or payment is required to enter or win the Saturday Small Business Sweepstakes. The Sweepstakes is open to all legal residents aged 18 and over in the areas served by Astound Business Solutions. In order to participate, all entrants must provide valid, current contact information via the entry form linked here http://www.astound.com/business/smb/small-business-saturday/. All entries must be received between Tuesday, November 15, 2022 and Thursday, December 15, 2022.
To learn more about the Sweepstakes, prize information and to nominate a small business, please visit: http://www.astound.com/business/smb/small-business-saturday/.
Committed to serving businesses large and small, Astound Business Solutions offers a flexible suite of affordable, high-performance solutions combined with friendly local service in communities across the country.
About Astound Business Solutions Astound Business Solutions provides IT leaders with secure, high-capacity connectivity for their mission-critical applications while increasing overall agility and responsiveness. As part of Astound Broadband, the award-winning national telecoms provider offers advanced solutions delivered over a diverse, carrier-class network that delivers the speed, bandwidth and reliability businesses need to meet growing data demands. With coast-to-coast connectivity to over 75,000 business customers, Astound Business Solutions takes a local, customer-centric approach with dedicated industry experts available 24/7 to help businesses keep pace with today's evolving IT technology hold and remain competitive in their markets.
Share the article on social media or via email: