President Joe Biden received his updated COVID-19 vaccine on Tuesday while urging more Americans to do so ahead of the winter and holiday season.
Biden was joined by executives from major US pharmacy chains Walgreens, CVS, Rite Aid and Albertsons, as well as Secretary of Health and Human Services Xavier Becerra, the President's chief medical adviser, Dr. Anthony Fauci, Surgeon General Dr. Vivek Murthy and White House COVID-19 Response Coordinator Dr. Ashish Jha.
"We're here with a simple message: get vaccinated, update your COVID vaccine," Biden said. "It's incredibly effective, but the truth is not enough people are getting it. We need to change that so we can all have a safe and healthy holiday season."
More than 20 million Americans, including nearly one in five seniors, have already received their updated COVID-19 vaccine. The latest booster shots target two subvariants of the Omicron variant, which are versions of the virus that the White House says are currently most prevalent in the United States and around the world.
The Biden administration announced several initiatives on Tuesday to encourage Americans to strengthen.
"As a country, we have a choice to make," the president said. "Can we repeat what happened in previous winters? More infections, more hospitalizations, more loved ones getting sick or even dying from the virus. Or will we have a much better winter if we use all the resources at our disposal now?"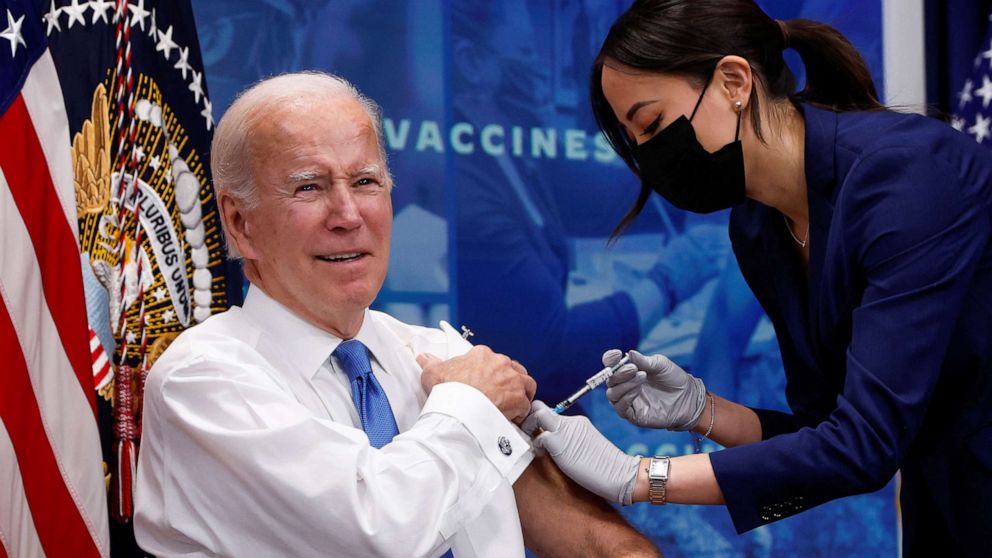 In the coming weeks, Walgreens will partner with DoorDash and Uber "to enable free prescription delivery of Paxlovid, an oral COVID-19 treatment, right to the door of Americans living in underserved communities," according to a factsheet of the White House.
The Department of Health and Human Services will launch what the administration is calling the "#VaxUpAmerica Family Vaccine Tour," with pop-up events — including at the 2022 NASCAR Cup Series Championship in Arizona next month — and distribution of vaccines. Toolkits" to child care centers, nursing homes, community health centers and other locations.
The Centers for Medicare & Medicaid Services (CMS) will target seniors to reach out to people via email and phone to provide information about the updated COVID-19 vaccines and how to get them, the White House said.
The Biden administration will also release a "fall manual for businesses on how to deal with COVID-19," according to the White House.
In his remarks Tuesday, Biden urged companies to offer employees time off to get vaccinated and urged colleges and schools to host on-site immunization clinics ahead of Thanksgiving.
"None of this has anything to do with politics," the president said. "It's about your health and the health of your loved ones."
Meanwhile, Albertsons, CVS, Rite Aid, Southeastern Grocers, Walgreens, Walmart, and Sam's Club have their own initiatives to help Americans get vaccinated.
At Tuesday's event, a reporter asked Biden if COVID was "still a national emergency." The president seemed to imply it wasn't in the present tense, responding, "It's a necessity to deal with and make sure it doesn't become one."
But he called the virus a "global emergency" and criticized Congress for not spending more on COVID funds. Republican lawmakers have resisted recent calls for more money, in part by saying previous funds have not been fully used.
"Some of our friends in Congress say we don't need COVID funding, or they say we do [there is] really no reason that the state should pay for it. I strongly disagree. Resolutely disagree. This is a global health emergency. If we really want to put COVID behind us, we must continue the fight together," Biden said.
– ABC News' Cheyenne Haslett and Alexandra Hutzler contributed to this report.