The American Society of Mechanical Engineers (ASME) has appointed Associate Professors of Mechanical Engineering Alan Bowling and Ankur Jain from the University of Texas at Arlington as Fellows.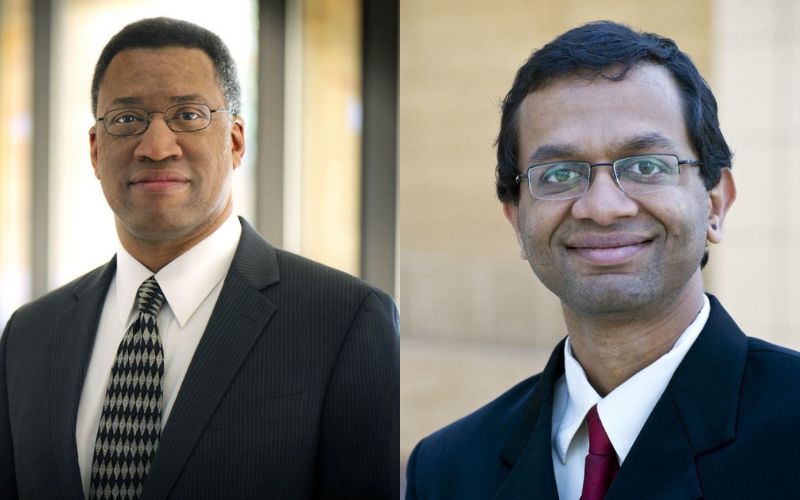 Bowling was recognized for his contributions to high-speed simulation and modeling of micro- and nano-sized objects in fluid and impact and contact dynamics. His research interests include multibody dynamics, cellular dynamics, mechanobiology, contact and collision dynamics, and robotics.
"I am honored to receive this recognition and to join the group of distinguished researchers who have been recognized as ASME grantees," he said. "I want Dr. Erian Armanios and in particular Dr. Sincere thanks to Dereje Agonafer for her support in obtaining this honor. I am also incredibly grateful for my graduate students, staff and undergraduate students, too many to name here, who have helped bring our work to a level worthy of ASME recognition. It takes a whole village."
Jain was recognized for his contributions to research and teaching related to heat transfer in engineering devices and systems. His research interests include heat transport, energy conservation, and multiphysics modeling of engineered systems and processes such as Li-ion batteries, semiconductors, and additive manufacturing.
"I am honored to receive this recognition of our research and educational activities," said Jain. "We hope to continue to contribute to the fundamental science and engineering of heat transfer and energy conversion. A lot of our work has very practical implications, like Li-ion batteries and 3D printing."
The Chair of the Department of Mechanical and Aerospace Engineering, Erian Armanios, emphasized the importance of the performance of his faculty members.
"Fellow membership recognizes outstanding engineering achievements and contributions to the engineering profession. dr bowling and dr Jain are privileged to be two of only 3,473 Fellows out of 75,372 ASME members," Armanios said. "We are proud to be part of this extraordinary recognition of achievements."
Seven other UTA faculty members are ASME fellows. They are Ashfaq Adnan, Agonafer, Armanios, Abdolhossein Haji-Sheikh, Kent Lawrence and Frank Lu, all from the Department of Mechanical and Aerospace Engineering, and Jun Liao from the Department of Bioengineering.
ASME serves a wide engineering community through quality learning, code and standards development, certification, research, conferences and publications, government relations, and other forms of outreach. It was founded in 1880 and has more than 85,000 members worldwide. More than 3,000 members have been made Fellows of the Society, or about 3.5% of the total.
– Written by Jeremy Agor, College of Engineering