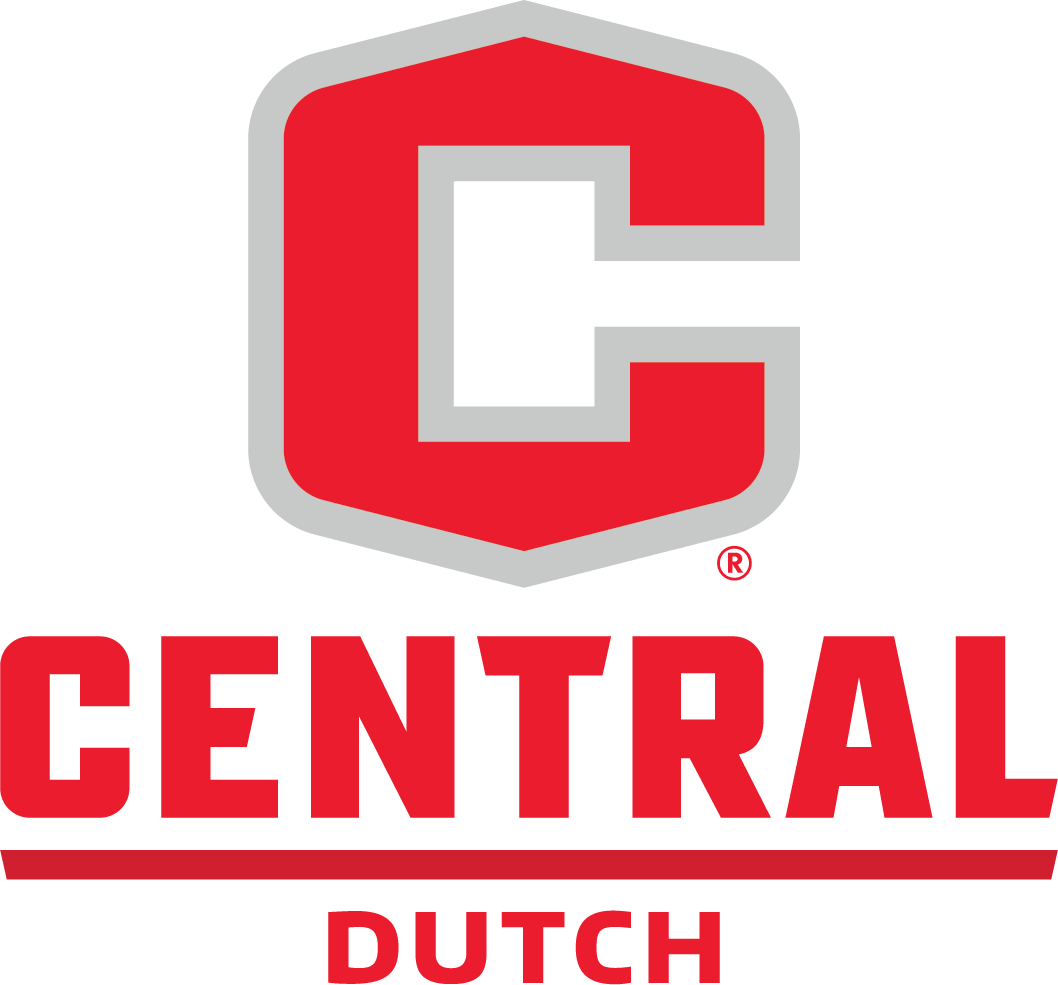 Mont Football TD Trifecta as Central Overwhelms Simpson
Logan Mont (Junior, Aurora, Illinois, West Aurora HS) found the endzone as a receiver, rusher and passer as the Central College football team racked up a season-high 680 yards on Saturday to surpass Simpson College 49-17.
Four Dutch players – and almost a fifth – threw TD passes and 13 had receptions. Together they completed 30 of 46 passes for 403 yards with one interception and six touchdowns. Central (5-2 overall, 3-2 American Rivers) also amassed 277 rushing yards.
Mont had eight receptions for 60 yards, including a 15-yard TD grab by Cooper Downs (sophomore, Ames) as the Dutch made touchdowns on six of their first seven possessions. Mont also had an 8-yard touchdown run in the second quarter and then caused an upset by taking a pitch from Keegan Glover (freshman, Benton, Illinois) and Ryan Neu (junior, West Des Moines, Valley) a 10 yard pass to HS) in the endzone with 14 seconds left at the half for a 28-10 lead.
The Dutch fielded four quarterbacks as Brady Ketchum (sophomore, Mount Vernon) completed 9-of-14 for 131 yards and two points. Downs was 9-of-13 for 117 yards with two TDs and Glover was 5-of-7 for 72 yards with one TD. Freshman Hunter Hoffman (Pecatonica, Illinois) almost became the fifth to throw a TD pass, but his 21-yard pass became Brendan Bogaard (sophomore, Phoenix, Ariz., Northwest Christian HS) in the fourth quarter called off for a penalty. Hoffman completed 6 of 11 passes for 73 yards. The Dutch did not drop any sacks that day.
Glover gained 66 yards on seven carries, running back Jason Hopp (5th year, Earlham) had 60 yards on eight carries, and running back Isaiah Walk (senior, Buffalo Center, North Iowa HS) had 52 yards on eight tries.
Simpson (0-7 overall, 0-5 conference) sustained a few drives and had 365 yards of offense overall. Simpson completed 20 of 39 passes for 214 yards and two touchdowns while rushing 50 times for 184 yards. Central held a 34-25 lead in the first downs. Linebacker Nathan Rahn (Senior, Chadwick, Illinois, Milledgeville HS) had 13 tackles, including nine solos.
Linebacker Tate Hagen (Junior, Britt, West Hancock HS) had nine stops with a tackle for loss, a forced fumble and a pass break. Freshman cornerback Ben DeMeulenaere (Belle Plaine) also had nine stops in his first collegiate start. Defensive end David Bakol (Senior, Houston, TX, Alief Elsik HS) had 1.5 sacks.
Two of Central's last three games of the season have been played, including next Saturday's 1 p.m. contest at Cedar Rapids with Coe College. The Kohawks are 5-2 overall and 4-1 in conference play after a 27-17 win at Loras College on Saturday.
Dutch tie with Nordic women on the soccer field
After Luther College took an early 1-0 lead with an own goal, the Central College women's soccer team fought back to a 1-1 draw on Saturday afternoon.
The Norse (6-7-4, 2-3-2 American Rivers Conference) took a 1-0 lead after a Central (8-5-3, 2-3-2 Conference) player accidentally hit the Ball hit goal had corner kick. Forward Grace Coates (sophomore, Marion) equalized the game 10 minutes later after charging down the left flank and receiving an assist from midfielder Paige Cahill (junior, Castle Rock, Colorado, Castle View HS). It was Coates' ninth goal of the season and Cahill's ninth assist. It was the only shot on target for the Dutch, but it was enough for a point in the conference standings.
It was also Senior Day for the Dutch as they paid tribute to their four seniors: Rachel Daniels (midfielder, Geneseo, Illinois), Sheila Horstmann (goaltender, West Des Moines, Valley HS), Alyssa Knuth (defender, Benton Harbor, Michigan, St . Joseph HS) and Bridget Lynch (midfielder, Northglenn, Colorado, Jefferson Academy).
Central finishes the regular season at home against Nebraska Wesleyan University at 2:30 p.m. Tuesday. A win would see the Dutch qualify for the league's postseason tournament. Another draw can also be enough to qualify.
Two goals in the second half spoil Central Men's Soccer Senior Day
A 1-1 tie at halftime was broken by two goals from Luther College in the second half as the Central College men's soccer team lost 3-1 on Saturday afternoon.
The Dutch (3-10-2, 2-4-1 American Rivers Conference) were denied by a goal by Luther (9-3-5, 3-0-4 Conference) in the seventh minute. Coleman Manuel (senior, midfielder, Erie, Colorado) scored an equalizer in the 34th minute that brought the Dutch touchline back to life. Manuel's second goal of the year was assisted by Gabe Wilson (junior, midfielder, Altoona, Southeast Polk HS).
The Norse scored for 42 seconds in the second half and increased the lead just over three minutes later. Central has been bolstered by the return of several players who missed an injury period. Midfielders Jake Dzarnowski (fifth year, Wheaton, Illinois, North HS) and Kale Schulte (freshman, Vinton, Vinton-Shellsburg HS) returned after missing five and three games, respectively. Lucas Bartachek (runner-up, midfielder, Waukee) played 13 minutes at Buena Vista on Wednesday but missed the last seven games. Kosuke Takahashi (rookie, defender, Kisarazu City, Japan, Gyosei International School) also returned after one game.
Central honored the six seniors with pre-competition degrees during a Senior Day ceremony: Brandon Banyas (defender, Altoona, Southeast Polk HS), Nathan Casas (forward, Cottage Grove, Minnesota, East Ridge HS), Michael Handel (defender, Libertyville , Illinois, Carmel Catholic HS), Noah Leonard (defender, Spring Hill, Kan.), Micah Poole (goaltender, Bettendorf) and Matthew West (forward, Pleasant Hill, Southeast Polk HS).
Central wraps up its regular season schedule by hosting Nebraska Wesleyan University Tuesday noon.
Loras stops the central volleyball team
The Central College volleyball team played its second American Rivers Conference game in as many days and was swept at Loras College on Saturday afternoon.
The Dutch (7-14, 1-6 Conference) were defeated by the Duhawks (8-17, 2-6 Conference) 25-20, 25-23, 25-20. As a team, Central had just 35 kills, led by Natalie Gaszynski (senior, outside hitter, Huntley, Illinois) and Gracie Daniels (sophomore, outside hitter, Broken Arrow, Oklahoma) with eight kills each. Ashli ​​Harn (rookie, defensive specialist, Waverly, Waverly-Shell Rock HS) had two of Central's three service aces. The Dutch had four blocks as a team, two of which were shared by Elyse Johnson (Junior, middle hitter, Kirksville, MO). Avery Rexroat (rookie setter, Macomb, Illinois) had a double-double with 13 assists and 10 digs. Ivett Flores (rookie, sweeper, Windsor, Colorado) led the team with 17 digs and Amanda Smith (senior, setter, Tipton) led the team with 20 assists.
The Dutch host Simpson College in their conference finals at 6pm on Wednesday.