D-BOX Technologies, a global leader in Immersive motion entertainment experiences, will be at IAAPA Expo 2022 in Orlando next week, where partners LAI Games, Matrix Technology and Triotech will showcase the company's high-fidelity haptic technology. Additionally, partner Base Performance will host a VIP event at Andretti Motorsport and unveil the all-new Phoenix haptic simulator.
These partners all use D-BOX's haptic technology to drive their innovations, using a precise combination of movements, vibrations and textures to enhance the guest experience. The technology also helps reduce VR-associated motion sickness for a fun and immersive experience.
Virtual Rabbids: The Big Ride Ultra HD
Virtual Rabbids: The Big Ride by LAI Games will be released in Ultra HD with 5k resolution and a wider field of view along with the latest iteration of D-BOX's haptic technology. There are six different experiences to encourage repeat play, and the update also features a higher frame rate and the latest GeForce RTX graphics card. Perfectly synchronized graphics and haptic feedback from D-BOX reduces motion sickness.
Learn more at booth #831.
The ORB
Matrix Technology uses haptic D-BOX seats in its ORB attraction, which keeps visitors coming back to its first installation location in one of Poland's largest shopping malls. An ideal choice for FECs, amusement parks, retail developments and more, the ORB challenges players to aim for the top spot on the leaderboard and compete with others from around the world.
Visitors can discover the attraction at booth #5931.
Three leading rides from Triotech
triotech, an award-winning creator of media-based attractions, has a long-standing relationship with D-BOX and uses the company's cutting-edge technology in not one, but three of its best-selling rides. This partnership has allowed Triotech to perfect the entertainment experience and offer users a product with increased fun and ultimate replay value.
This year, triotech is expanding its popular Storm VR experiences with hand gesture technology and multi-difficulty levels with a new D-BOX encoded film that will debut at IAAPA: Creepy Castle. Players are sent through the gates of a haunted estate and face off against skeletons, spiders, ghosts and more.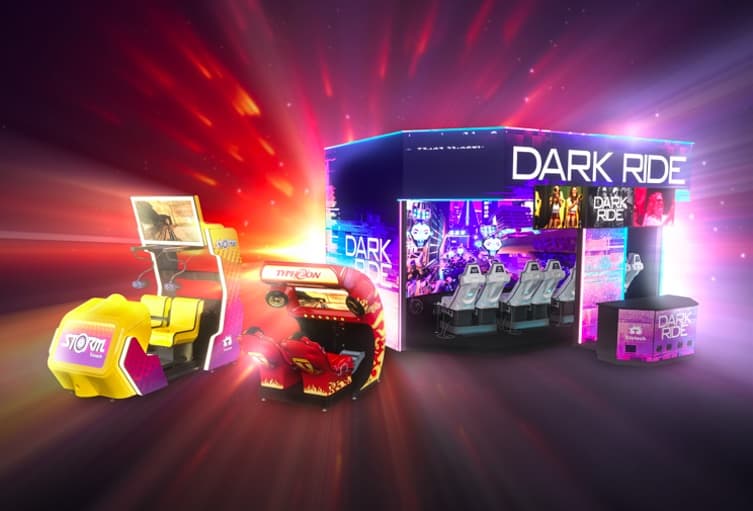 Triotech also uses D-BOX technology in its XD Dark Ride. IAAPA attendees can experience the new film for this attraction, Zombies Resurrected, which will be released in early 2023. Scalable from 4 to 40 seats, the XD Dark Ride features the world's fastest aiming system, group play, individual scoring, and renewable content.
Finally, Triotech will also introduce Typhoon, a coin-operated, media-based simulator that allows users to experience a variety of different rides side-by-side. This features motion seats and wind, as well as a new content catalog featuring 10 movies on a 4K resolution screen.
Learn more at booth #5818.
the phoenix
Base Performance Simulators will present the first installation of its all-new Phoenix simulators at Andretti Motorsport in Orlando, right next to the IAAPA Expo. The ultra-realistic sim racing rig features D-BOX's G5 haptic technology. It is designed to be robust and allows guests to experience the quality of professional motorsport simulators.
Andretti Motorsport draws on decades of experience to offer a range of immersive and realistic racing experiences.
Get to know the D-BOX team
The D-BOX's haptic technology is scientifically proven to minimize motion sickness for a more comfortable and immersive experience. Thanks to this technology, the entertainment systems offered by LAI Games, Matrix Technology, Triotech and Base Performance Simulators are uniquely able to tell stories that go beyond sight and sound and keep players coming back for more.
To book a meeting with the team, please click here.
For more information on IAAPA Expo 2022, visit Read our summary of the best educational events, events and exhibitors of this year's event.