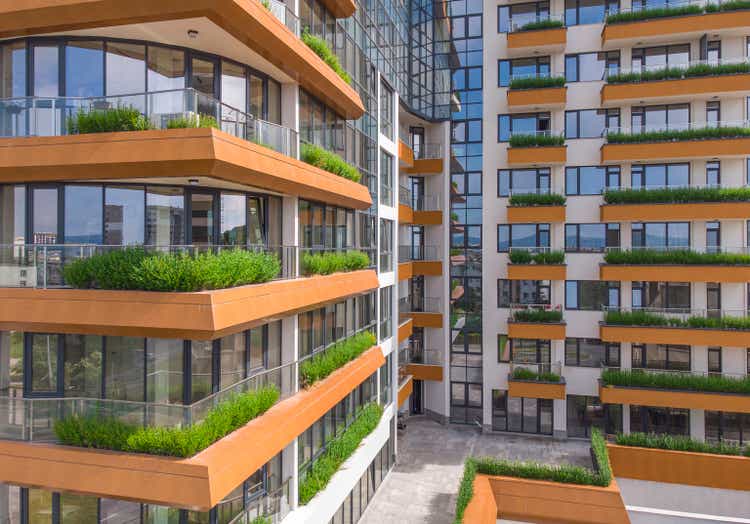 FirstService Corporation (NASDAQ:FSV) has been an excellent investment since Colliers (CIGI) spun off in 2015. The company has grown revenue and EBITDA at rates of 17% and 20%, respectively, while its shares have risen 355% and thus clearly exceeds the Russell 2000 (IWM) and S&P 500 (SPY) in the last 7 years. FSV's tremendous outperformance has been fueled by continued market share gains, overall market growth and steadily increasing profit margins, and significant multiple expansion as investors recognize the company's enduring growth characteristics.
overview
FSV's Residential Services business (approximately 50% of Group EBITDA) is the leading provider of property management services to housing associations (HOAs) that service condominiums and single-family homes. Almost all condominium owners (and many single family/townhouse owners) belong to a homeowners association that is responsible for providing a range of services to the building. Condominium owners elect a board of directors (condominium co-owners) who select a property management company to provide a range of services including:
– Personnel services – reception / concierge, cleaning and maintenance
– Maintenance of amenities – pool, fitness center
– Procurement – Cable/Internet, Utilities, Building Insurance
-Project Management – provide and oversee large projects such as elevator replacements or lobbies overhauls
-Cost accounting for the above services
This is a recurring revenue business that is economically resilient – these services are essential to the functioning of a building and FSV has a retention rate of the mid-90s. The value of the source of income for a single building (or a neighborhood in the case of a family home/townhouse) typically grows by CPI +1-2%.
Beyond the embedded growth of FSV's existing customer base, the company has continued to gain market share both organically and through acquisitions. While FSV is the largest provider of these services in North America, today it has only 6-8% of the total market (for condominiums) and has a long runway for continued growth as it gains market share from other players and capitalizes on the trend towards outsourcing, as internally run associations are increasingly turning to outsourced providers such as FSV.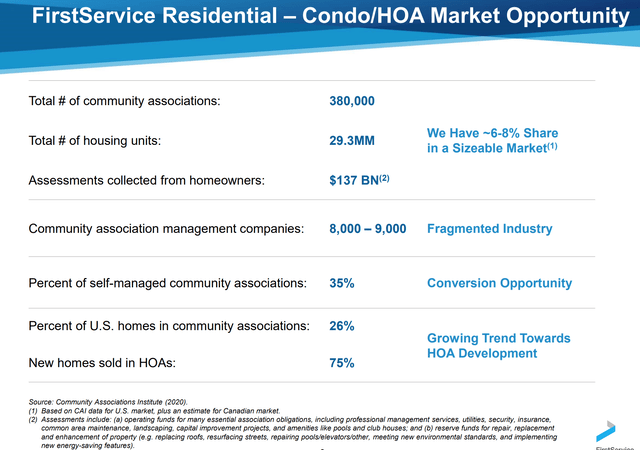 Overall, the company should continue to deliver low double-digit revenue growth (and 13-15% EBITDA growth) through organic and bolt-on acquisitions.
In addition to the residential business, FSV has a "Brand" business that accounts for about 50% of EBITDA and consists primarily of its real estate restoration and California cabinet business.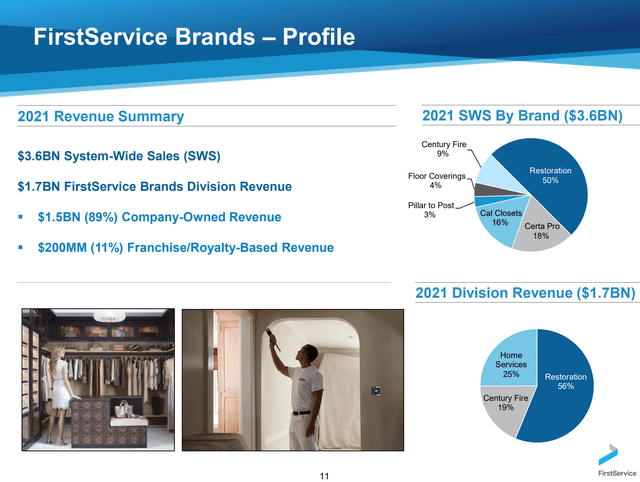 The restoration business operated by the Paul Davis brand provides services to rehabilitate and repair damage to residential and commercial properties caused by water, fire, mildew, storm or other disaster. Overall, this is a stable business that is relatively isolated from the broader economic cycle, although the business is expected to be subject to some fluctuations related to storm activity.
Like the Residential Services business, the Restoration business has grown both organically and through bolt-on acquisitions.
The other important component of this segment is the California cabinet business. This business is more economically sensitive than the residential services and restoration business and may experience some short-term weakness given the significant slowdown in the US housing market. However, since it accounts for less than 10% of group EBITDA, it shouldn't have a dramatic impact on overall results.
Rating & conclusion
Here's a look at the FSV's rating:
| | | |
| --- | --- | --- |
| stock price | 123 | A |
| Shares o/s | 45 | B |
| market capitalization | 5,535 | C=A*B |
| net debt | 515 | D |
| Non-Controlling Interest | 300 | E |
| Total enterprise value | 6,350 | F=C+D+E |
| | | |
| EBITDA 2023e | 375 | G |
| expenditure | 60 | H |
| EBITDAX | 315 | I=GH |
| | | |
| EV/EBITDAX | 20.2 | J=F/I |
| | | |
| EBITDAX | 315 | I |
| interest | 25 | K |
| Steer | 58 | L |
| Non-Controlling Interest | 11 | M |
| net income | 221 | N=IKLM |
| eps | 4.91 | O=N/B |
| | | |
| SPORTS | 25.0 | P=A/O |
As you can see, FSV shares are not statistically cheap, trading at a P/E ratio of 25x. Given the recurring revenue/non-cyclical nature of the business, the fantastic historical performance (shown below), and the opportunity for continued growth beyond GDP, I think this is a fair multiple for the company.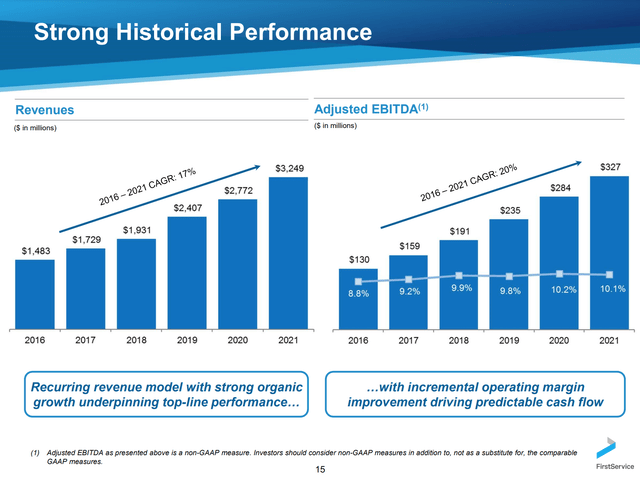 While I expect revenue/EBITDA growth to slow due to the rapid pace seen over the past five years, I believe it is likely that Residential Services/Restoration EBITDA will grow by more than 10% per year over the next 5 years year The business continues to benefit from inflationary tailwinds and is growing both organically and through acquisitions. This level of growth supports today's 25x multiple.
Given my view that shares are fully rated, I am not currently an owner of FSV shares. If general market weakness causes shares to fall, I'd be interested in holding the stock around $90 — as a value investor, I typically buy positions at a discount of 30% or more to my estimated fair value.
risks
As mentioned above, the California cabinet business could be weak due to the slowdown in the US housing market. However, this segment only represents around 10% of Group EBITDA.