Everything on the Skycam is to blame. Or maybe the Zamboni.
It's been just 10 days since the Bills were 6-1, fresh off a nationally televised win over Green Bay. The Sabers were 7-3 and basked in a nationally televised punking from Pittsburgh.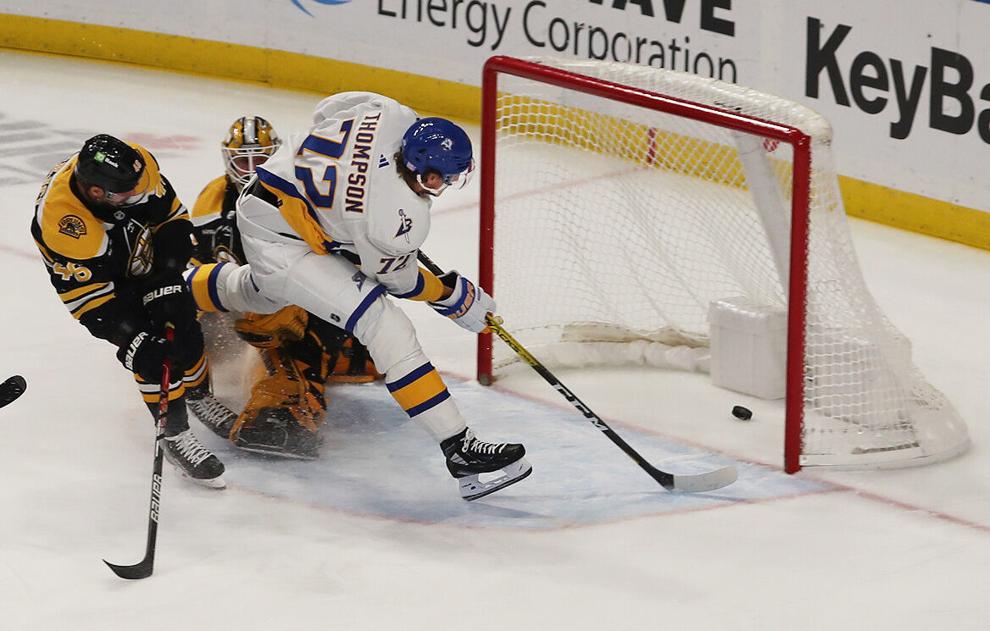 The Buffalo Sabers took a 1-0 lead early in the first period but were unable to capitalize as the Boston Bruins equalized in the second period and scored twice in the third period to earn a 3-1 win.
Ah, for the good old days. What a lousy week it's been for Buffalo Sports.
Last Sunday, the Bills had a 14-3 lead over the New York Jets and were 14-10 in the third quarter when the CBS Skycam ruptured a cable over MetLife Stadium and the game had to be halted because the camera was too low hung over the field and became a danger to players and fans.
You know the rest of the story. The Bills lost, Josh Allen was injured and while it looks set to take on the Vikings on Sunday, there are real questions about where this season is going with all this club's injuries on the defensive side of the ball.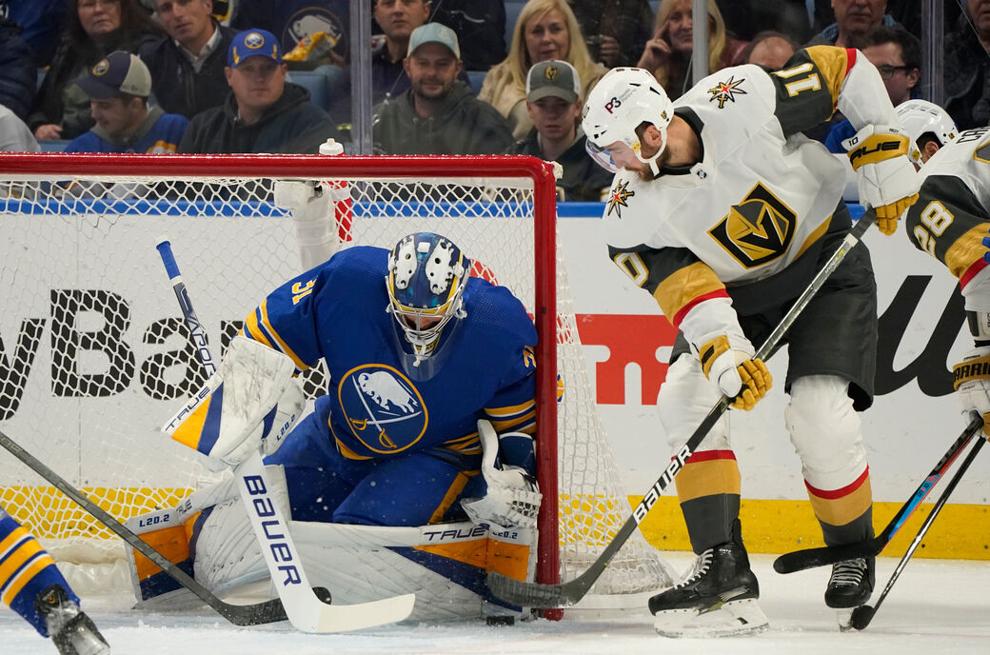 The Golden Knights (13-2) extended their winning streak to nine games with a 7-4 win over the Sabers. The Sabers (7-7) have lost four straight games after falling defensively against Vegas in the third period.
Seriously, whose bingo card had beaten the Titans, Ravens, Chiefs and Packers – and a 2-0 start at AFC East?
Suddenly all the talk of home advantage as a suspension has faded to the background, and one wonders if this club actually finishes ahead of the Dolphins and the Jets. the jets Odd year the Jets and Brian Daboll-led Giants actually had a pulse and a playoff path.
endgames? The Sabers don't know what that is, of course, and you can't remotely think of them in November. But one could only dream a little as the Sabers went through 10 games finishing second in the Atlantic Division and fifth in the NHL overall.
The fans were awash with hostilities for 40 minutes as Eichel, who was mercilessly booed at every touch of the puck, had no point and his team went 3-2 up. Then they had no choice but to zip up.
Where do they stand after Saturday's 3-1 loss to Boston? Seventh in the Atlantic, 22nd overall and 7-3 became 7-8. It was a quick slide that began with a tough loss in Carolina last weekend, highlighted by Jesperi Kotkaniemi's gloved swipe at Rasmus Dahlin's Schnozz that threw the top-flight blueliner out of the following night's loss in Tampa.
Tuesday's sleepy loss to Arizona – who also owns wins against Florida, Washington, Toronto and the New York Islanders – There was a delay in the start of the third period when one of the Zambonis stalled on the ice and had to be towed. That was new to me.
Then came Thursday's loss to Jack Eichel and the Vegas Golden Knights, who hit the jackpot in the third period as the former Buffalo captain scored a hat-trick and four points. Saturday's belly punch was a 1-1 game that lasted over 52 minutes and the Bruins grabbed it to go 13-2.
"Bitter taste in the mouth," Sabers coach Don Granato said. "We have a group. They are not happy. It (checks off) them, and that's a really good thing for us. We brought in competitive people… for that reason. This stuff happens, they don't like it and they want to fix it. The silver lining is that they know they can fix it. And they need to keep gaining experience to convert that know-how (into) knowledge."
That's 17 wins for the Bruins in their last 18 games against Buffalo. And the Sabers have nowhere to go in their division if one of their main competitors keeps turning them into their personal piñatas.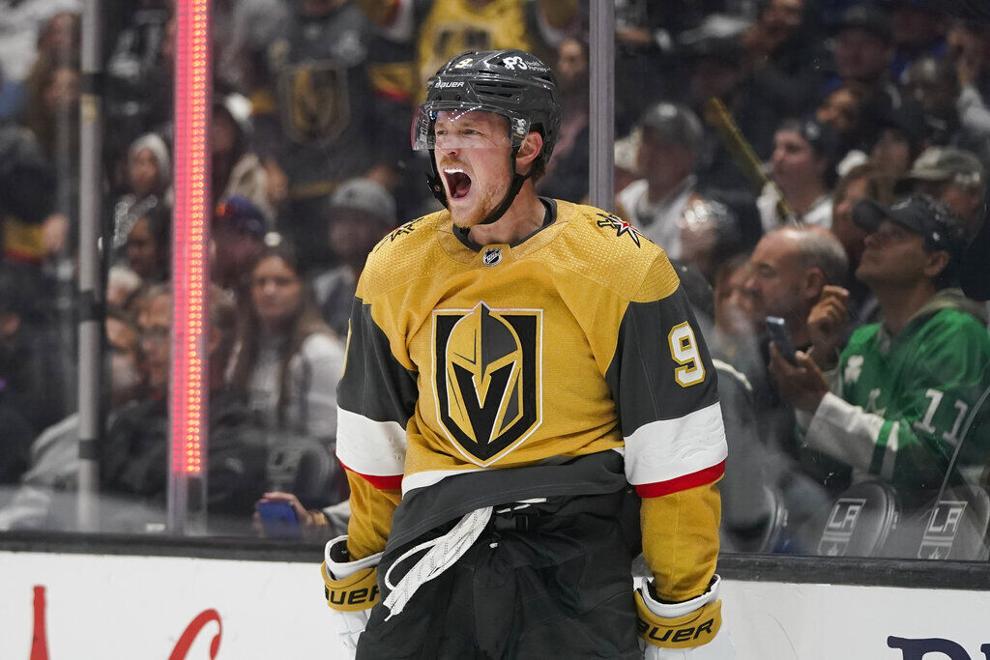 "Vegas Baby, Vegas," Jack Eichel proclaimed his trade from Buffalo on social media a year ago, and last spring's hiccups are quickly being washed away in the sea of ​​success Vegas is having this season.
"Right now we're in a phase where we're chasing the game a bit," said Sabres winger Victor Olofsson. "We want this win so badly, but sometimes you have to keep your cool and let the game evolve. And I think we'll just be a little bit more patient. Don't rush things."
The Bills and Sabers aren't the only ones struggling lately. The University at Buffalo football team turned a 24-7 halftime lead in Central Michigan into a 31-27 loss, and suddenly that bowl bid isn't so safe. The UB basketball team was beaten at home by James Madison 97-62 on Saturday in the visitors' first 30+ point win on the road since 1976. Canisius was beaten in Monday's home opener against Youngstown State thanks largely to a 33-3 run that ended the first half. At least Saturday's overtime thriller about St. Bonaventure mends that wound easily.
The Sabers, meanwhile, have Sunday off to consider their fate. On the preseason theory, Toronto, Tampa Bay and Florida were the class of the Atlantic, and Boston would struggle due to their injury woes, age, the shocking firing of coach Bruce Cassidy and the hiring of former Dallas coach Jim Montgomery. Maybe the Bruins were the team to catch. Will not happen.
Right now, Montgomery and Cassidy are your early favorites for Coaches of the Year.
"I think we're really good," Montgomery said ahead of Saturday's game. "And I didn't know we were that good. D-Corps is better, the forwards are better, the goalies are better. We have depth in every position."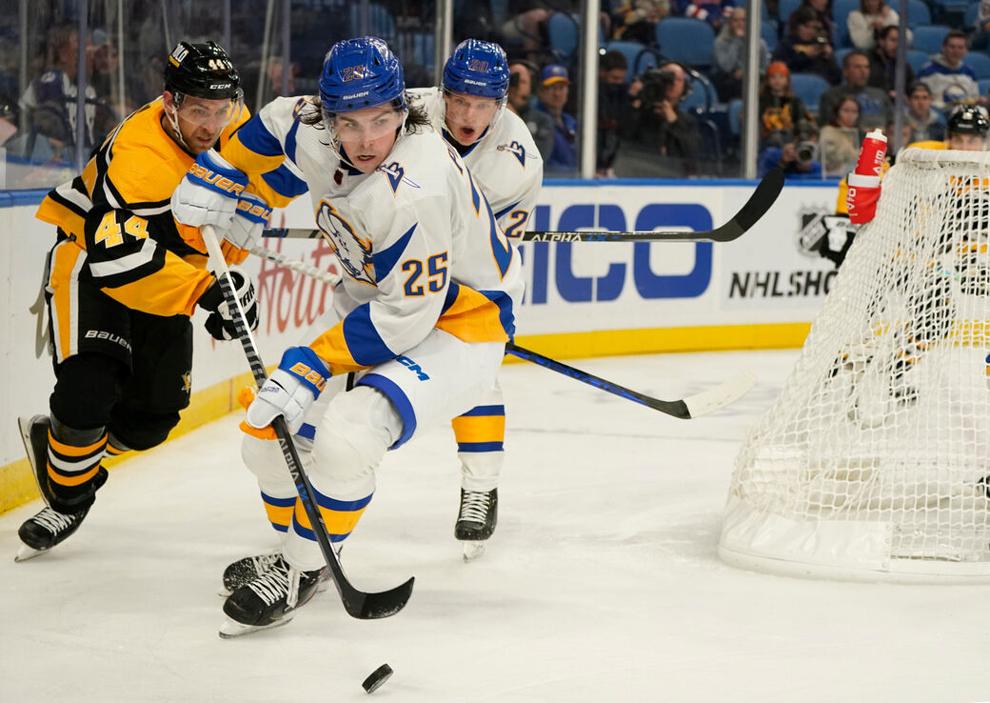 Power's determination to be better off the puck combined with the work he puts in on the ice and in the video room resulted in his best performance yet on Wednesday night. In addition to making a highlight roll pass to equalize, Power also helped knock out the Pittsburgh Penguins in the third period, finishing the game with 23:51 ice time.
The Bruins had 107 points last year and it looks presumptuous that they were written off.
"We thought for a long time that we were a good team," said Bruins winger Nick Foligno. "People quickly forget how many points we had with this squad last season. And we only improved it. It was kind of nice to get counted a little right and not have the respect. And I think it just gave us another thing to push for."
"I don't know if we've made a statement," Montgomery added. "A bit of a 'Belichick answer' here, but it means we come first. It's because of how hard they play for each other in this space."
This week in Buffalo sports, the last thing we need is an opposing hockey coach quoting Bill Belichick.
But somehow it seemed to fit the way things went.