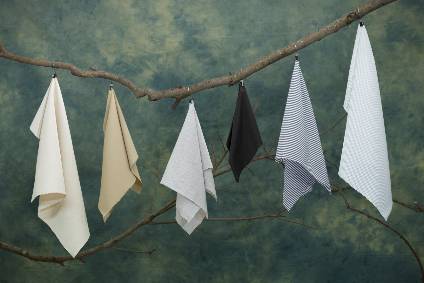 Developed by The Lycra Company in partnership with HeiQ, a provider of high-performance finishing technologies, the application is the latest example of both companies' ongoing efforts to bring more innovative and sustainable textile technologies to consumers worldwide.
NaturalFX technology enhances cotton knitwear, addresses critical consumer issues and improves the overall consumer experience. The technology provides 100% cotton knitwear with lasting comfort, stretch, fit and a soft handfeel compared to traditional finishes, the companies say.
Even after repeated washes and wears, Lycra NaturalFX technology helps knitwear hold its shape, helping to extend the garment's lifespan and potentially reduce its environmental impact.
"Lycra NaturalFX technology durably improves the stretch and recovery properties of cotton knit fabrics with an exceptionally soft hand," said Nicolas Banyols, Chief Commercial Officer at The Lycra Company. "This innovation not only improves the performance of everyday 100% cotton knitwear, but is also easy for weavers to implement as it requires no investment in new equipment."
All knitwear utilizing Lycra NaturalFX technology can be sent to The Lycra Co. labs for quality control to ensure full consumer benefits are provided, including comfortable stretch, breathability and durable fit. New logos will feature both the Lycra and HeiQ brands and will be supported by customizable co-branded POS materials with the slogan "In Sync with Nature's Rhythm" also available to brands and retailers.
As The Lycra Co. leads the commercialization of the technology, HeiQ will collaborate and support adoption through its network of brands, as well as manufacture and sell the equipment directly to textile mills, leveraging the company's established global technical services to achieve optimized performance.
"Combining The Lycra Company's expertise in stretch fibers with HeiQ's renowned innovation in chemical textile finishing has resulted in a truly unique value-added technology that offers cotton knitwear improved performance," added Mike Mordente, Head of Business Unit Textiles at HeiQ. "I am confident that Lycra NaturalFX technology will open up a new generation of enhanced stretch and recovery clothing with comfort and durability."
Earlier this month, The Lycra Company launched a new recycled fiber that offers a lower carbon footprint than its counterparts.
Thermolite EcoMade fibers are made from 100% textile waste, are GRS certified and offer the same quality and durable, lightweight warmth as their virgin polymer counterparts, but with a smaller carbon footprint.