People with physical disabilities in Hong Kong can now further integrate into society by using technological inventions specially designed for them. Oasis Hu reports from Hong Kong.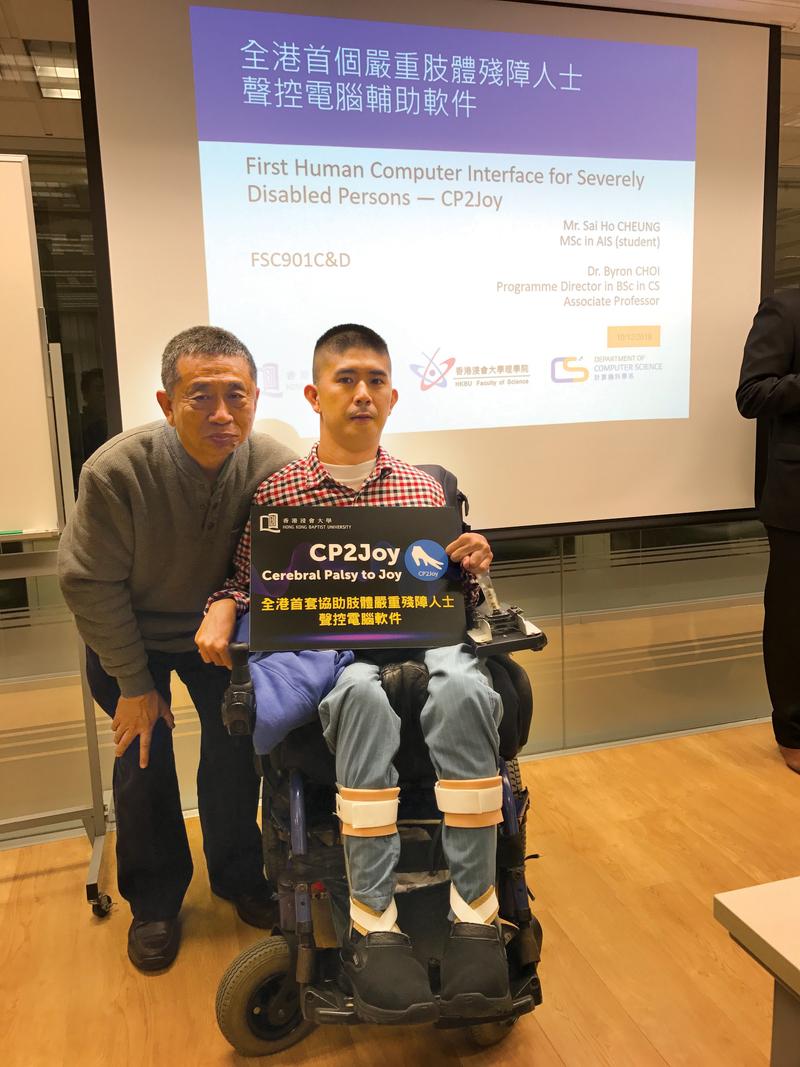 Text messaging is universally used today, especially by millennials who embrace the use of technology. But it might be a difficult task for some, like Sunny Cheung Sai-ho, who was born with severe cerebral palsy and can only move one of his fingers.
It used to take him half an hour to type just five letters on the computer. That's a thing of the past now because he can do it in a minute with the help of CP2Joy (Cerebral Palsy to Joy) – the first human computing device designed for severely disabled people in Hong Kong.
Cheung, 39, had difficulty using the keyboard or mouse due to his muscular atrophy and severe tremors. "His hands shook all the time and damaged keyboards when he tried to type," Cheung's father recalls.
Many devices that are commonly used to help the disabled have also not been helpful to Cheung. His uncontrollable eyeball movements prevent him from using eye tracking and gaze interaction devices. Speech recognition software is also out of the question as he can only make a few monotones. Staring at the computer screen is also annoying.
CP2Joy – a system Cheung developed using both software and hardware – is tailor-made for people with severe physical disabilities. Instead of the traditional keyboard and mouse, CP2Joy uses a joystick that Cheung finds easy to control, using his palm instead of his fingers.
He drew inspiration for the development of the device from his wheelchair, which is equipped with a lever for control and operation. By sending single-syllable commands that sound like "A, E, O," Cheung can trigger his computer's preset shortcut via voice-recognition software to control the computer. Though typing long paragraphs can still be a chore, he's managed to usher in a new world by connecting to a larger planet – the World Wide Web.
Prior to the advent of CP2Joy, Cheung had relied solely on his parents and social worker to help him communicate with the outside world, including interviews and public speaking, as they were among the few people who could understand him. Now he has created his own companion to help him overcome life's challenges.