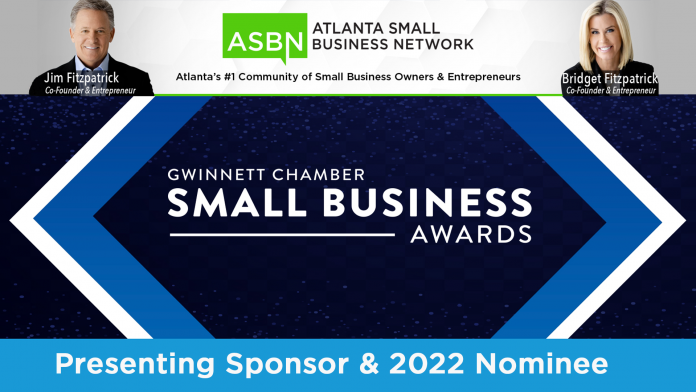 Gwinnett County (Metro Atlanta) Ga – November 10, 2022 –The Atlanta Small Business Network, Atlanta's premier resource for small business owners, has been nominated for the 2022 Gwinnett Chamber Small Business Awards, an annual program recognizing entrepreneurs and small businesses in the Gwinnett area. This year's program will take place on December 9th at 9:00 am at 12Stone Church in Lawrenceville
"Being small business owners ourselves, supporting entrepreneurs is incredibly important to us. By sharing their travels, expertise and best practices with our growing audience, ASBN aims to build a community where committed individuals can achieve their goals," said co-founder and CEO Jim Fitzpatrick.
"We are honored to have been selected as a finalist for the Gwinnett Chamber Support System Award. Entrepreneurs can learn so much from each other, and taking the time to listen to their stories can accelerate your own journey," added co-founder and COO Bridget Fitzpatrick.
Honoring individuals and organizations, awards are presented in the following ten categories:
Community Contributor Award

Culture Prize

Emerging Entrepreneur Award

Founders Award

starting price

Minority/Women Owned Small Business Award

Small Business Award; 0-5; 6-24; 24+ employees

Support System Award
"Small businesses make up ninety percent of all business in Gwinnett and are a critical component of our thriving economy," said Nick Masino, President and CEO of the Gwinnett Chamber. "We congratulate Jim and Bridget Fitzpatrick, co-founders of The Atlanta Small Business Network, on their nomination and look forward to celebrating with them at this upcoming awards program."
Join the Atlanta Small Business Network onsite at the Gwinnett Chamber Small Business Awards to see ours Media team in action.
For more information about this event or to register to attend, go to GwinnettChamber.org/Small-Business-Awards.
# # #
About the Atlanta Small Business Network
The Atlanta Small Business Network is an on-demand streaming platform for small business owners, entrepreneurs, and startup founders. Since 2018, ASBN has been reporting on small business news, trends and best practices through thousands of expert interviews, small business profiles and original network shows. It is ASBN's mission to provide thoughtful and practical content to support every entrepreneur as they navigate the exciting, challenging and rewarding journey of business ownership.
www.ASBN.com
Media contact:
Anna del Villar
editorial coordinator
[email protected]sbn.com
770.954.8609
About the Gwinnett Chamber
The Gwinnett Chamber serves as a voice for corporations, facilitating the growth of quality jobs while enhancing the vitality and quality of life of the community. The chamber offers a wealth of growth opportunities for the business community of the greater Atlanta area by working with regional partners to advance economic and community development initiatives throughout Georgia. Through its fundamental goals of creating quality jobs and wealth, strengthening communities and growing business, the chamber serves more than 2,000 member companies in the greater Atlanta area and provides innovative programs to connect local, regional and global businesses.
www.gwinnettchamber.org
Media contact:
Lisa Sherman
VP, Marketing & Communications
[email protected]
678.334.1513
---
The Atlanta Small Business Network, from inception to success, we're your one-stop shop for small business news, expert advice, information and event coverage.
While you're here, don't forget to subscribe to our email newsletter for the latest in business news know-how from the Atlanta Small Business Network.