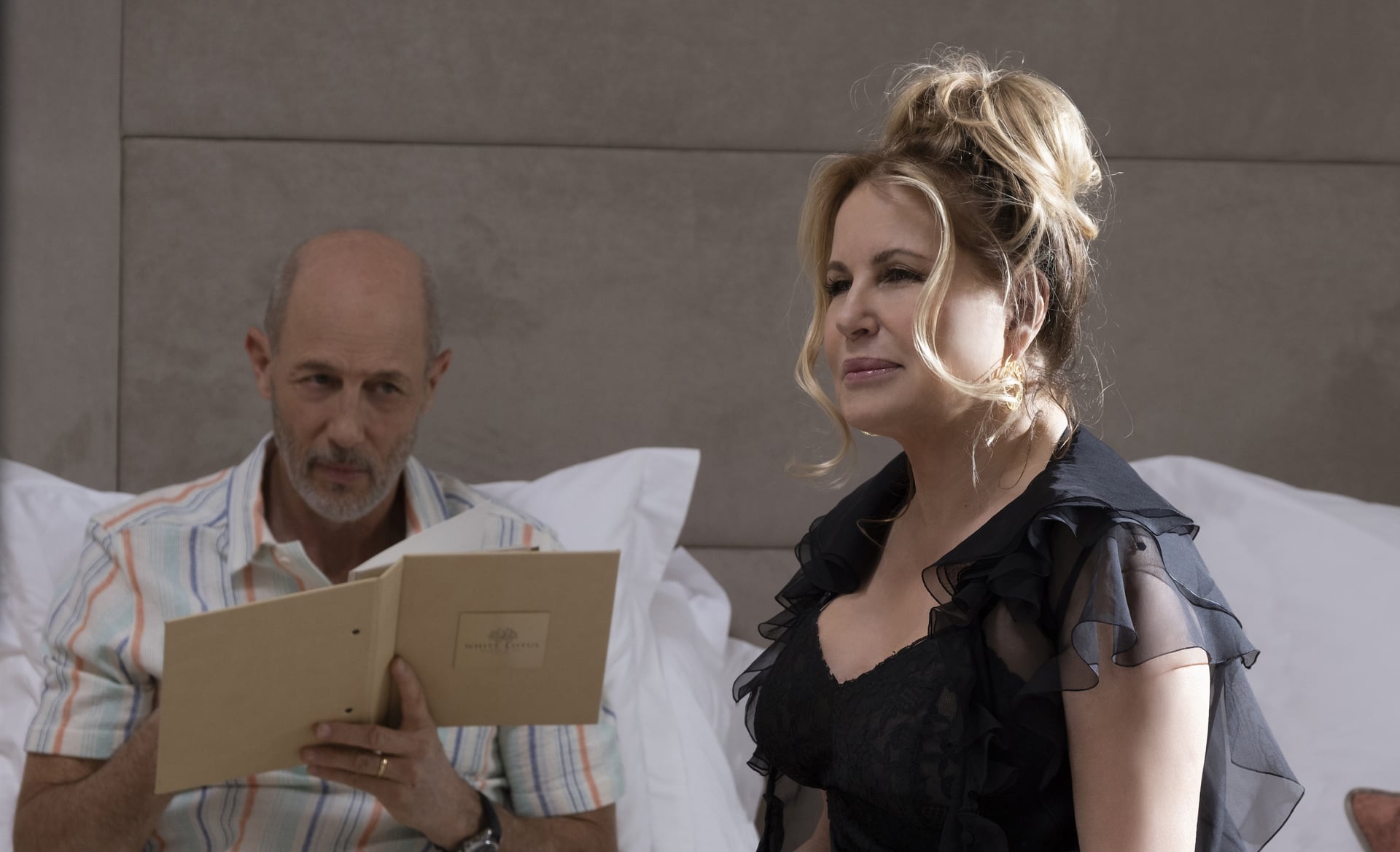 White Lotus Season 2 is here, introducing us to a new over-the-top resort and an almost entirely new cast of characters. At the beginning of the very first episode, which premiered on October 28, Daphne (Meghann Fahy) goes for a last swim in the ocean before flying back to the United States. But her final relaxing swim is anything but, as she finds a dead body in the water with her, prompting a mystery that will keep us wondering all season.
However, it seems that the mystery person is not the only death this season. In the next scene, Rocco tells hotel manager Valentina (Sabrina Impacciatore) that one of the guests drowned. "It's okay, the sea isn't hotel property," she says. "We cannot be held responsible for what happens in the Ionian Sea!"
"You don't understand," counters Rocco. "Salvatore says more bodies have been found." A stunned Valentina then asks, "What the hell are you saying Rocco? What do you mean by other bodies?"
"Other guests were killed," he says, shaking his head. Valentina asks how many dead guests there are, and he replies, "A few?" Meanwhile, someone is being carried away in a body bag on the beach.
So which guests die – and how many? It's still unclear, but we have some early leads. It's clear from Valentina and Rocco's comments that only guests will die during the show's seven episodes, meaning the staff is safe this time around. With the body that Daphne finds, we only see the person's legs. She says, "Oh my goddamn it," and runs back to shore, which she might not have done if it had been her husband Cameron (Theo James) – but she might have. When she reaches the beach, she screams for help.
The most likely person to die is Bert Di Grasso (F. Murray Abraham), the oldest of the guests we meet in this episode. Relations between him, his son Dominic (Michael Imperioli) and his grandson Albie (Adam DiMarco) seem strained. Then there's the return of Tanya McQuoid-Hunt (Jennifer Coolidge), this time with her assistant Portia (Haley Lu Richardson) and husband Greg (Jon Gries) in tow. Could the show kill fan-favorite Tanya? It's definitely possible.
Our other vacationing couple are Harper (Aubrey Plaza) and Ethan (Will Sharpe), who seem overwhelmed during this luxury vacation with Daphne and Cameron. Then there are the two local girls Mia (Beatrice Grannò) and Lucia (Simona Tabasco) who work at the hotel as sex workers. Technically, they're not guests, but maybe Rocco wasn't technically speaking.
There are six more episodes of White Lotus ahead of us and we'll have to wait and see who ends up dying.